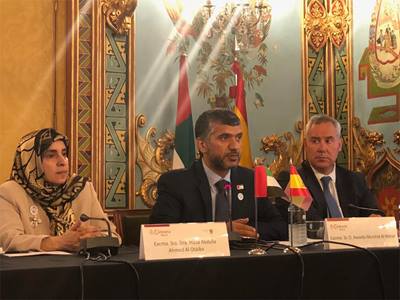 The Embassy of the United Arab Emirates in Madrid, in conjunction with the Spanish Chamber of Commerce, Industry, and Services, will host AwaidhaMurshed Al Marar, Chairman of the Department of Energy (DoE) and head of the DoE delegation at the Global Power & Energy Exhibition (GPEX) in Barcelona, from 17 to 20 September 2018.
The DoE Chairman, AwaidhaMurshed Al Marar, stressed the importance of strategic collaboration between the DoE and the Spanish companies in energy-related fields to leverage the international experience of both parties and to reach broader horizons, and he highlighted that one of the main goals of the DoE was to apply the best global practices in energy production systems and technology.
Moreover, Al Marar pointed out that the DoE continues to achieve optimal levels in energy-sector related services to keep abreast of global developments in this field.A business meeting will be held between Al Marar and several Spanish companies operating in the energy sector, including companies involved in energy technologies and renewable energy. Both parties will explore investment opportunities, potential projects, and ways to enhance cooperation in energy-related areas.
The meeting discussions will cover the DoE's role in the development of the energy sector in the Emirate of Abu Dhabi and the DoE's strategy to achieve the targets of Plan Abu Dhabi 2030 and the targets of the federal government of the UAE. In addition, a brief about the ongoing critical projects, such as the Noor Abu Dhabi Plant in Sweihan (one of the world's largest solar power plants), will be presented.
This solar power project is being implemented through a strategic partnership with JinkoSolar (a Chinese manufacturer) and Marubeni Corporation (a Japanese company) consortium. The project aims to diversify power resources in accordance with Abu Dhabi Economic Vision 2030, which seeks to create and maintain a sustainable and diversified economy. The Noor Abu Dhabi Plant project includes the construction, development, funding, and operation of a solar power station with the use of photovoltaic technology in Sweihan, at a total cost of AED 3.2 billion and with a production capacity of about 1177 MW. The station is expected to start operating on the local grid power during the second quarter of 2019.