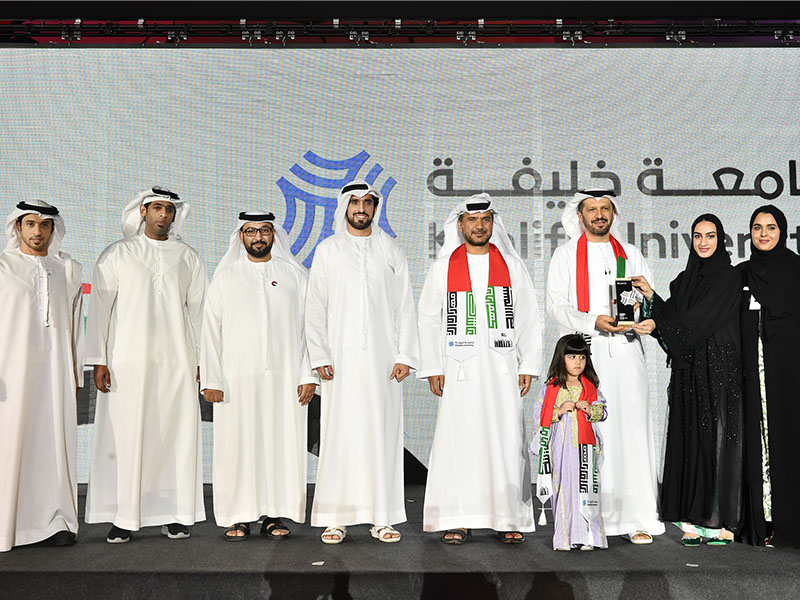 For the second consecutive year, Abu Dhabi Department of Energy (DoE) joined educational institutions in Abu Dhabi to celebrate UAE National Day.
H.E Eng. Awaidha Murshed Al Marar, Chairman of DoE, headed a delegation from his department to celebrate the country's 48th National Day with students, teaching faculty, and administrative staff at Khalifa University. The visit formed part of DoE's commitment to supporting local talent and motivating students to achieve academic excellence across all fields, especially those related to renewable energy and sustainability.
H.E Eng. Awaidha Al Marar, Chairman of DoE, said: "I am delighted to mark this special occasion by putting out UAE Flags with members of our country's younger generation. These inspiring young men and women are the future of our efforts to drive the energy sector and achieve our wise leadership's vision of ensuring the highest levels of supply security, economic and social development, and environmental sustainability standards."
"I would like to congratulate His Highness Sheikh Khalifa bin Zayed Al Nahyan, President of the UAE; His Highness Sheikh Mohammed bin Rashid Al Maktoum, Vice President, Prime Minister and Ruler of Dubai; and His Highness Sheikh Mohammed bin Zayed Al Nahyan, Crown Prince of Abu Dhabi, Deputy Supreme Commander of the UAE Armed Forces and Chairman of the Executive Council of Abu Dhabi, and their excellencies, the rulers of this proud united nation."
As part of DoE's celebrations, a delegation from DoE visited Hamdan bin Zayed School in Abu Dhabi to share the joy that this special day brings. The DoE representatives reviewed student projects relating to energy and its rationalisation and enjoyed presentations exploring the Barakah Nuclear Power Plant and the value of wind power as a renewable energy source in the UAE's coastal areas.
DoE's visit agenda featured insights on the energy sector transformation, led by the department, while highlighting academic and scientific fields that best advance its objectives, bolster supply security and contribute to achieving social and economic development and environmental sustainability in Abu Dhabi.