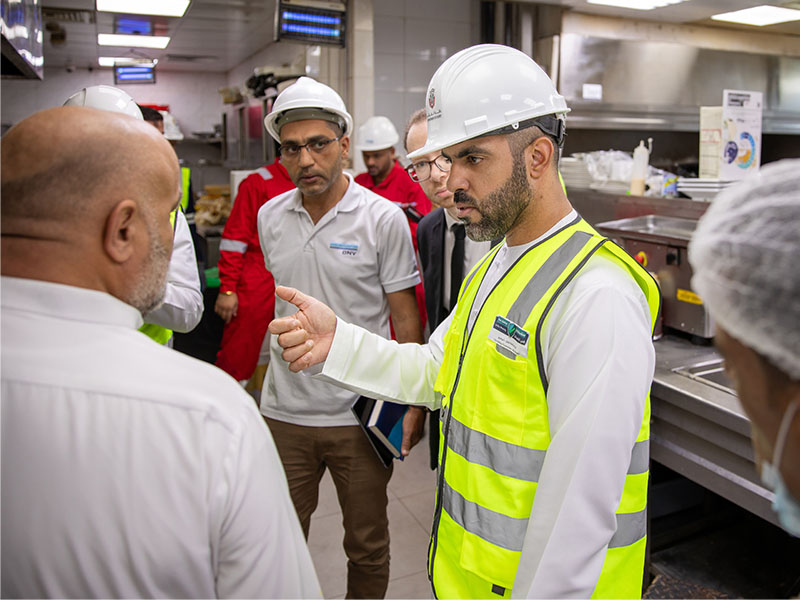 In cooperation with Abu Dhabi Civil Defence Authority, Abu Dhabi Gas Safety Committee has initiated inspection campaigns on food facilities operating in the Emirate.
The Committee emphasized that these inspection campaigns are part of their commitment to implement the best local and international safety and security practices related to gas systems in food establishments. This commitment also aims to ensure the safety of workers, providing them with a secure working environment. To this end, the Committee assesses safety procedures within food facilities and monitors compliance with safety standards.
The Committee further highlighted its collaboration with relevant authorities to implement a series of steps and measures which include regular inspection and maintenance of gas systems in food facilities as well as providing necessary training and guidance to staff working in this field. Additionally, there will be an increased emphasis on safety awareness and compliance with required standards through organizing workshops to raise awareness among employees in food establishments regarding the importance of adhering to safety standards for gas systems within their facilities.
Also, the Committee elaborated that these visits would involve inspection teams that will examine gas and fire detection systems within food establishments in collaboration with Abu Dhabi Civil Defence Authority. In the event of high risk violations, the facility owner will be requested to isolate and halt the gas system until the necessary corrective measures are taken within a period not exceeding two (2) weeks. The inspection team will issue a detailed report on the status and provide the facility owner with a list of approved maintenance companies. Once all essential requirements are met, the facility can request a re-inspection to obtain a certificate of compliance valid for a year and must be renewed on an annual basis.
In cases where corrective measures are not implemented within the specified period, the facility will be subject to legal actions until all requirements outlined in the report are met.
The Committee stressed the importance of using centralized gas systems when available and avoiding the use of gas cylinders, as well as refraining from storing gas cylinders near ignition sources. The Committee also emphasized that the number of gas cylinders stored should not exceed the number designated in the classification of Abu Dhabi Civil Defense Authority, based on the size of the facility using gas cylinders. Furthermore, the Committee expressed that it is essential to ensure the installation of the gas system and its supplies by approved companies, maintain a regular maintenance contract with an accredited company, and install gas detectors in restaurants at the correct height by companies approved by the Abu Dhabi Civil Defense Authority.
The committee also urged the public to contact them and report any violations observed in any food establishment by calling Abu Dhabi Government contact center on 800555.