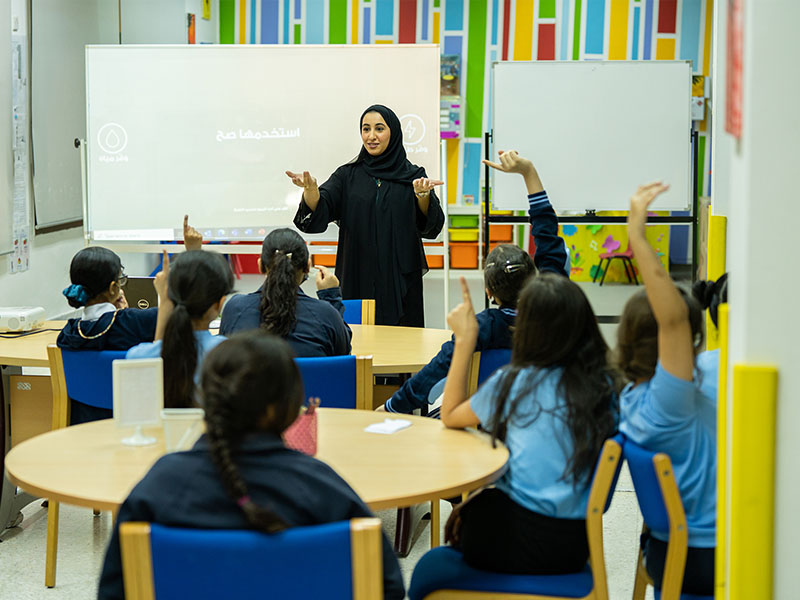 As part of the Year of Sustainability, the Department of Energy in Abu Dhabi, in collaboration with the Family Development Foundation, organized a series of awareness workshops which aimed to strengthen the role of government entities in promoting awareness and encouraging behavioral change, which are key aspects of Abu Dhabi Demand Side Management and Energy Rationalization Strategy 2030.
The workshops aimed to elevate the level of awareness among community members and urge them to adopt a conscious and responsible lifestyle in electricity and water consumption. Additionally, they sought to enhance community members knowledge about the latest modern technologies and innovative systems in this field.
The awareness workshops saw significant engagement from diverse sections of the community, including students, teachers, homemakers, and employees from various government and private organizations. These workshops featured educational and informative activities conducted by a team of department personnel, emphasizing daily practices that actively contribute to minimizing electricity and water usage.
The workshops were held at the Family Development Foundation centers, including Al Ain, Al Wathba, Zayed City, and Al Mirfa centers. Moreover, the workshops were implemented in schools affiliated with the FDF in Abu Dhabi and were attended by a group of female students from the foundation's schools, as well as various segments of the community in Al Ain and Al Dhafra regions.
Commenting on the success of the awareness workshop series, H.E. Maryam Mohammed Al Rumaithi, Director General of Abu Dhabi's FDF, said, "The Family Development Foundation is committed to launching workshops and awareness campaigns aimed at instilling a culture of responsible consumption in the educational sector, government and semi-governmental entities, and all segments of society. This is in line with the framework of our integrated strategy that aims to create a mindful and sustainable society. The foundation is keen on promoting the culture of rationalization, increasing individuals' awareness of consumption reduction, and enriching their knowledge of energy consumption and the preservation of resources that support the journey of sustainable development."
H.E. further stated, "Aligned with the Abu Dhabi DSM Strategy 2030, which seeks to promote sustainability, our organization embraces an approach that highlights the importance of conscious and responsible living as a fundamental element for well-being and sustainable social progress. We are extremely proud to announce the successful implementation of these workshops, conducted in partnership with our strategic ally, the Abu Dhabi Department of Energy. We are eager to deepen our collaboration and broaden its reach to create a positive impact on society, aligning with government objectives while fostering community awareness to enhance the well-being and quality of life for families.
Eng. Ahmed Juma Al Falasi, Acting Executive Director of Energy Efficiency at DoE, stated, "The awareness workshops contribute to the achievement of Abu Dhabi Demand Side Management and Energy Rationalization Strategy, which aims to reduce electricity consumption in the Emirate by 22% and water consumption by 32% by 2030. He also added that the programs have played a vital role in promoting a culture of responsible consumption which will ultimately lead to achieving the desired positive change in electricity and water consumption patterns and enhance environmentally friendly practices."
Al Falasi also highlighted, "The notable accomplishment we have observed is a direct result of the fruitful collaboration between the Department of Energy and the Family Development Foundation. It exemplifies the collective efforts of Abu Dhabi's governmental organizations to provide the community with outstanding guidance on sustainability and the efficient utilization of the Emirate's resources. This concerted action aims to secure a sustainable future for generations to come."