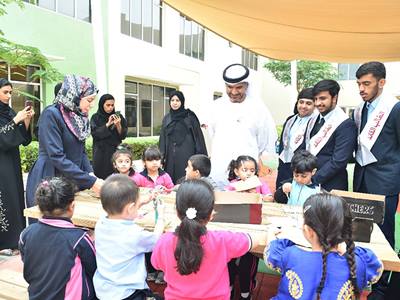 Global energy today is undergoing change at an unprecedented speed, driven by a blend of technology innovations and emerging supply and demand dynamics that influence consumer behavior and policy maker frameworks.
DoE Celebrates 47th UAE National Day with Students at Hamdan bin Zayed School The Department of Energy (DoE) - the entity responsible for strengthening the pioneering status and sustainability of the energy sector in Abu Dhabi - celebrated the 47th UAE National Day with students at Hamdan bin Zayed school, the first tri-lingual school in the UAE that teaches in Arabic, English and Chinese. H.E Eng. Awaidha Al Marar, Chairman of the DoE, led his visiting delegation to the school to share the joy of the day with its students, teaching faculty and administrative staff.
The celebrations started with the playing of the UAE national anthem, which was followed by a show titled 'National Opera' performed by the students in the school's gym. After this, the DoE team introduced the kindergarten class to the importance of energy and its role in creating a strong and sustainable society.During their visit, the DoE delegation interacted with the school's grade 4 students and highlighted to them a range of solar projects and their applications in protecting the environment and reducing the cost of consumption.
The celebration event also included the hosting of a scientific debate for ninth and tenth grade students under the title of 'Energy,' while youngsters from grades 10 and 11 presented a group of projects that focused on improving energy consumption and reducing waste.H.E Eng. Awaidha Al Marar, Chairman of the DoE, said: "It was a pleasure to celebrate this important national occasion with the children at Hamdan bin Zayed School. We used the visit to introduce the Department of Energy's role and show them how important the energy sector is to the UAE community.
The activities the students undertook as part of our visit showed that these youngest members of our community understand how they can play their part in ensuring the effective use of resources and in minimising unnecessary energy expenditure." H.E. added "We extend our sincere congratulations to His Highness Sheikh Khalifa bin Zayed Al Nahyan, President of the UAE; His Highness Sheikh Mohammed bin Rashid Al Maktoum, Vice President, Prime Minister and Ruler of Dubai; and His Highness Sheikh Mohammed bin Zayed Al Nahyan, Crown Prince of Abu Dhabi, Deputy Supreme Commander of the UAE Armed Forces and Chairman of the Executive Council of Abu Dhabi, on this wonderful day of national unity. On behalf of the energy sector in Abu Dhabi, we affirm our commitment to the continued achievements of our great country by standing shoulder-to-shoulder with our wise leadership in pursuance of even greater success."