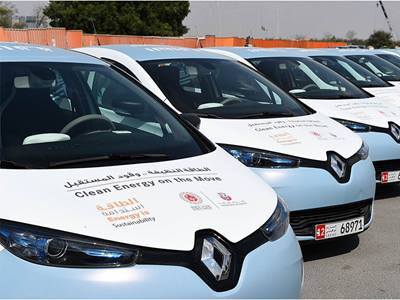 The Abu Dhabi Department of Energy, DoE, has launched the 'Clean Energy on the Move' initiative, allocating a fleet of electric cars and an eco-friendly bus to shuttle participants and the public between the venues of the Special Olympics World Games Abu Dhabi 2019. These include Zayed Sports City (ZSC) and the Abu Dhabi National Exhibition Centre (ADNEC) during the Games from 14 to 21 March 2019.
DoE has called on the public to follow up on the route of its electric vehicles, while highlighting the environmental impact of using the eco-friendly cars. From March 14 to 18 (by the fourth day of the Games), the electric vehicles have travelled 5,652 km, which cut carbon emissions by 1,778 kg, making an environmental impact that is equivalent to planting 23 trees. Updates on the initiative and its impact are uploaded on daily basis to the official website of the DoE's "Powering the Special Olympics" campaign.
"The 'Clean Energy on the Move' initiative is part of our wider integrated campaign to support the Games. It allows us to highlight the importance of clean energy and sustainable lifestyles and encourages the public to embrace green transportation solutions that reduce carbon emissions, protect the environment and natural resources, and significantly improve quality of people's life. This also reduces noise pollution resulted from the ordinary cars using traditional fuel sources. This is aligned with the wise vision of the UAE's leadership, the objectives of the UAE Centennial 2071 to make the UAE the best country in the world, and the Abu Dhabi Vision 2030, to create a sustainable environment, improve air quality, and limit the impact of climate change," said Mohammed Juma bin Jarsh Al Falasi, Under-Secretary of DoE.
"This initiative is a message to the international community that witnesses this global humanitarian event, asserting that Abu Dhabi is an active partner in global efforts that aim to rationalise the consumption of natural resources, reduce carbon emissions, and curb the effects of pollution on the environment and public health. It reflects our commitment to adopting advanced technologies and solutions that help in energy conservation. We urge all individuals and companies operating in Abu Dhabi to embrace these solutions and play their part in improving quality of life in the city," added bin Jarsh.