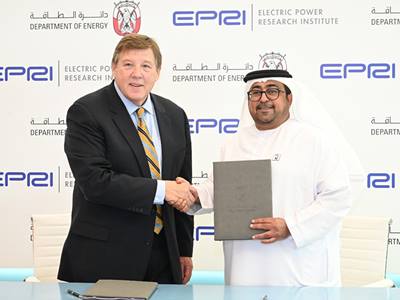 DoE INKS INNOVATION AND RESEARCH Collaboration WITH EPRI
The Abu Dhabi Department of Energy (DoE) and the Electric Power Research Institute (EPRI) today announced a collaboration to help DoE strengthen its Research and Development (R&D) and innovation, as well as enhance its policy analysis and regulatory implementation capabilities.
The new collaboration is in line with DoE's strategic goal of setting foundations for sectoral development to accelerate Abu Dhabi's energy transition. It also underscores DoE's position as an enabler of national strategies to transform the emirate's energy sector into a secure, reliable system that supports socio-economic growth and environmental sustainability.
Leveraging EPRI's renowned expertise in global energy research, training and technology transfer, the collaboration will deliver a wide range of benefits to DoE with a focus on capability building, access to expert resources, benchmarks and best practices, thought leadership through EPRI's Technology Innovation Program, as well as conducting tailor-made research projects for DoE.
In particular, the agreement is expected to leverage EPRI's research programs which have direct benefit to DoE, by providing objective and technical information to support their decision-making regarding market design, trading and competition policy; renewables and energy mix policies; system integration; end-use efficiency; industry outlook data and policy support; and technology and innovation.
H.E. Mohamed Bin Jarsh Alfalasi, Undersecretary of the Abu Dhabi Department of Energy, said: "We are committed to strengthening our connections with international institutions to support national and global sustainable development goals. The relationship with EPRI presents a powerful platform for us to significantly expand our research and development capability and extend it to our sectoral partners and stakeholders. Since the inception of DoE in 2018, we have demonstrated our ability to drive the sector's policymaking, regulation and strategic development process, leading Abu Dhabi towards a new energy era. We are delighted to collaborate with EPRI as we focus on building the sector's capacity through research and innovation to ensure a sustainable future for generations to come."
Mike Howard, EPRI's President and Chief Executive Officer, said: "We are looking forward to working with the Abu Dhabi Department of Energy, supporting its R&D needs which will help support the transformation of Abu Dhabi's energy sector. EPRI's global expertise in the areas of innovative power generation technologies, grid modernization, new energy resource integration, and environmental stewardship will strengthen DoE's capabilities in delivering safe, affordable, reliable and sustainable energy for Abu Dhabi."