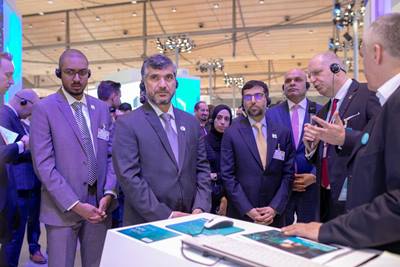 A high-profile delegation from DoE chaired by HE Awaidha Murshed Al Marar, Chairman of DoE, visited Germany to take part in The Hannover Messe and Berlin Energy Transition Dialogue.
The visit, which include Hannover and Berlin, is meant to enhance means of cooperation and exchange expertise in energy area. The delegation attended the opening ceremony of Hannover Messe, and held a meeting with Joe Kaeser, President and CEO of Siemens. During the meeting, the delegation reviewed the latest developments in Abu Dhabi's energy sector in terms of infrastructure and strategies of logistics and demand management. The delegation was briefed on the solutions and technologies developed by Siemens to serve energy operations management.
The delegation toured the event's pavilions and review the companies' latest innovations in energy and 3D printing, including Huawei Technologies. The delegation also participated in the Berlin Dialogue, which discussed for three days several issues related to solutions and challenges in the field of energy transmission.
Al Marar delivered a speech on "Efficiency, intelligence and mobile solutions shape the cities of the future".
The Berlin Dialogue included the promising investments in integrated energy transmission solutions, the efficient use of carbon revenues, and utilising electronic flexibility and security to enhance the decentralisation of the energy system.