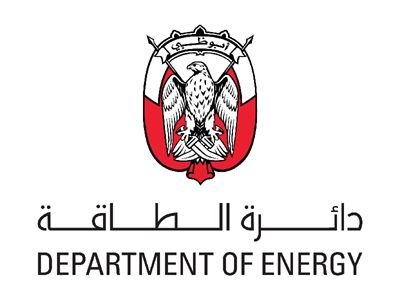 Empowering the youth to chart a sustainable future is now a necessity, asserted the Abu Dhabi Department of Energy (DoE), noting that the Department has been at the fore for years leading efforts to achieve this strategic objective.
The DoE is taking part in 'Youth 4 Sustainability (Y4S)' – an initiative by Abu Dhabi Future Energy Company (Masdar) – using the platform to invest in the youth, sharpen their skills, develop their culture, and prime them to be sustainability leaders. The Department underlined the importance to benefit from young, innovative minds and steer them along established scientific and practical lines to build a better future.
The Abu Dhabi Department of Energy has been participating in the Y4S platform and Abu Dhabi Sustainability Week (ADSW) since 2019 as a principal partner. The partnership reflects the DoE's commitment to collaborating with various entities, raising awareness about energy efficiency and environmentally conscious behaviour, and driving Abu Dhabi's efforts to invest in clean and renewable energy, positioning the emirate as a world sustainability capital.
Support and Motivate
The Abu Dhabi Department of Energy has long been engaged in efforts to promote sustainable environmental practices and energy efficiency in the community. The DoE's participation and support for Y4S are an integral part of these efforts, asserted DoE Chairman His Excellency Eng. Awaidah Murshed Al Marar in his speech addressing the Y4S audience, where he urged the youth to drive the sustainability agenda and goals to invest in clean and renewable energy.
H.E. reaffirmed the DoE's support for young people, announcing at the conclusion of the programme that graduates would be given opportunities to train at the Department's offices in Abu Dhabi where they can continue to hone their skills and work closely with veterans in the sector to set foundations for a brilliant future.
The programme enlisted 4,500 young people across various activities. The DoE also organised thought leadership workshops that inspired 100 young members to become ambassadors for energy and water efficiency, in addition to three hours of workshops focusing on training and measuring reactions.
Youth 4 Sustainability (Y4S)
Commenting on the DoE's participation in Y4S, Dr Lamya Fawwaz, Executive Director for Brand & Strategic Initiatives at Masdar, underlined the importance of collaborating with the Abu Dhabi Department of Energy as a strategic partnership in the 'Youth 4 Sustainability' platform, which aims to encourage and empower the youth to lead sustainable development.
"The platform provides significant opportunities for training, upskilling, communication, and knowledge exchange between young people and experts," Dr Fawaz explained. "It is part of Masdar's efforts and strategic initiatives to promote a culture of sustainability among all members of the community in a bid to build a better future for all."
The DoE's partnership with Y4S aims to empower the next generation of sustainability leaders to become ambassadors, spreading awareness and playing a part in improving our environment in the present and future. The platform enlisted two DoE employees to be part of the programme's council: Muhammad Abbas Ahmed, Senior Specialist Wastewater, and Ahmed Abdullah Al Hammadi, Senior Specialist.Oil and Gas.
Creative Thinking
Eng. Mohammed Al-Hadrami from the DoE's Sustainability and Energy Efficiency Department, spoke about the youth's participation in the platform's workshops and lectures, noting their exceptional and creative thinking, which he insisted should be embraced, put to good use, and included in plans and strategies.
"The DoE has taken into consideration a project submitted by young participants in a special workshop organised as part of the Y4S Virtual Summer Camp," Al-Hadrami revealed, explaining that the project consisted of an awareness campaign designed to highlight eco-friendly water consumption and the impact it has on the present and future.
Al-Hadrami noted that the sessions held at the Summer Camp shed light on the technical aspects of rationalising energy consumption. "A few simple steps are enough to raise awareness within this group and, subsequently, in the community as a whole," he said. "This sets the stage for an approach where science and culture are harnessed to address all challenges, and this will certainly help achieve our strategic objectives."
Empowering the Youth
The Abu Dhabi Department of Energy played a notable role in empowering the youth to innovate and venture into the field of energy efficiency. The DoE organised a series of panel discussions, most notably the 'Sustainability and Innovation Challenge' held during Abu Dhabi Sustainability Week in January, where a proposal was made for an innovative solution to expedite energy efficiency efforts in Abu Dhabi's cooling sector. The session was moderated by DoE engineers and specialists.
Takeaways
The DoE succeeded in guiding, coaching, and empowering 43 promising young talents during Masdar's Ecothon Innovation Challenge, which aims to expedite energy efficiency efforts in Abu Dhabi's cooling sector. Eight innovative solutions were designed by young local and international engineers and students, with work now underway to organise training programmes for the winners at the DoE headquarters, offering them guidance and support to acquire the necessary skills for innovation and entrepreneurship in the energy sector.
Virtual Sessions
In an effort to encourage the youth to embrace and promote sustainability as a way of life, the DoE participated in 10 different virtual activities, sessions, and workshops in 48 hours. The sessions focused on skill development and saw the Department communicate directly with young people to discuss everything from energy, climate change, and sustainable transportation, to food, eco-friendly behaviour, and investment in renewables and recycling.
Artificial Intelligence
Two DoE employees took part in directing an event titled 'Harnessing Artificial Intelligence to Face Climate Change' – the first event of its kind on the Y4S platform. The two-day hackathon allowed students to explore ways to use AI for sustainability, examine various real-life AI applications, and gain experience in data analysis and modern technology.
Technical Model
Ahmed Al-Jabri and Zaid Al-Obaidly from the Abu Dhabi Department of Energy launched a challenge where young participants had to create a technical model that can classify the leaves of plants and detect any diseases they may have. AI basics and problem-solving abilities were also discussed, and the DoE team developed a unique model using Python programming language to analyse the results and accuracy rates and offer recommendations for improving the model.
Graduation
A total of 122 young men and women graduated from the 'Youth for Sustainability' programmes, where they received guidance and direction, and developed the necessary social skills for entrepreneurship, innovation, and collaboration to overcome obstacles. This, in turn, would enable them to play an effective role in driving growth across the social entrepreneurship environment, advancing sustainable development in the UAE, and charting a better future.